Aim and Operations
---
Since its establishment in 1994, Top Waterproof Engineering Limited has been striving to solve for our clients all kinds of difficult and demanding waterproofing problems. With continuous development and research in terms of latest techniques, quality materials and advanced machinery, as well as careful and rigorous team work, we have been able to solve a great variety of waterproofing problems within a relatively short period of time, thus enabling us to become a well-established company with high standing and prestige. Our clients include various organizations such as different government departments, property management companies, construction companies, banks, hotels, owners' corporations, etc.
---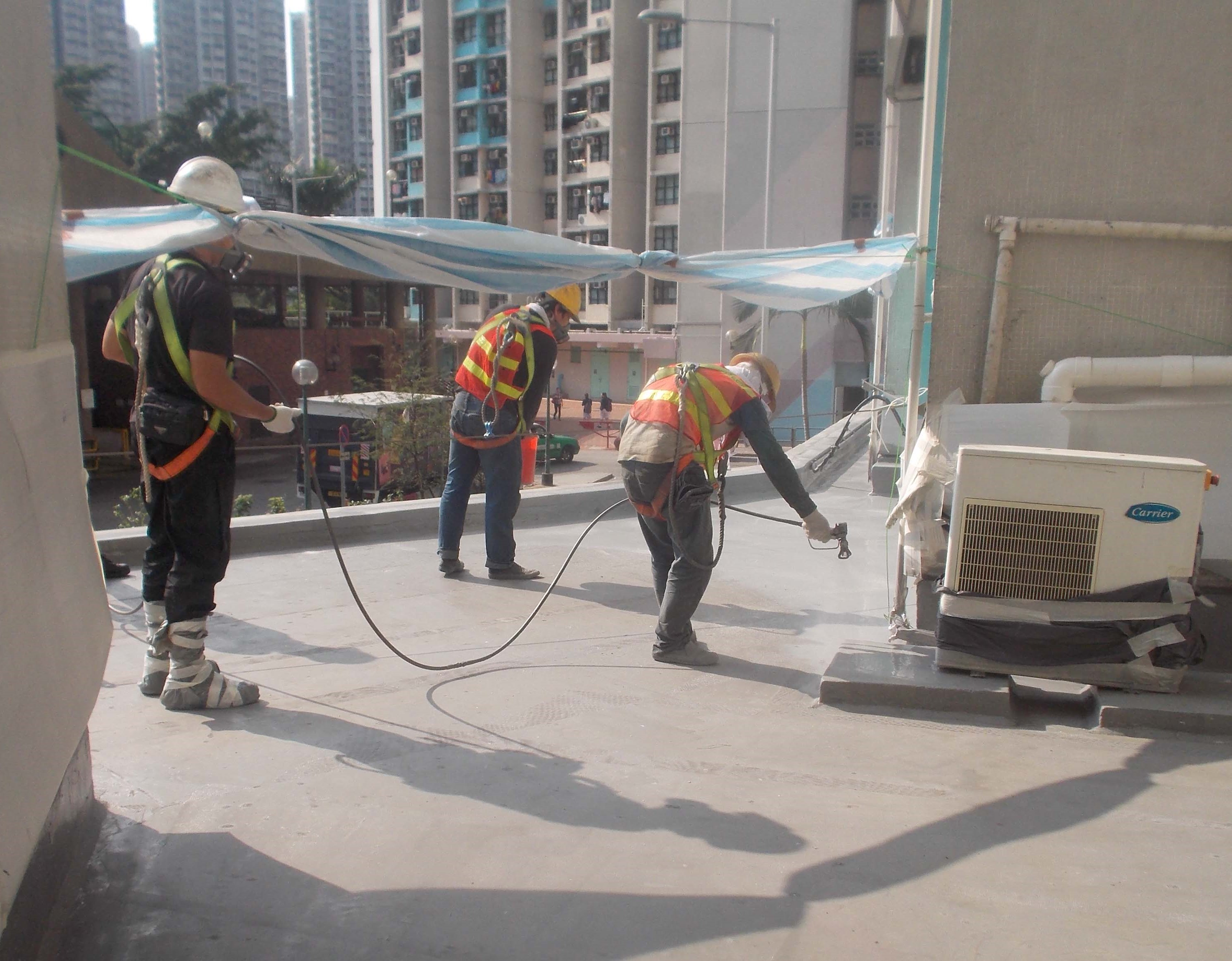 As a professional waterproof engineering company, we pledge to provide our clients with comprehensive and various waterproofing services as well as building strengthening, building repair and building renovation which include the following items:
Roof Slab / Rooftop / Podium / Floor Slab Waterproofing
Concrete Cracks Injection Repair
Expansion Joint Waterproofing
Spalled Concrete Repair
Basement Waterproofing
Window Edge Seepage Repair
Lift-Pit Waterproofing
Water Tank Waterproofing
Epoxy Flooring
Building Renovation / External Wall Waterproofing
Spray PU Rigid Foam
One-Part Polyurea Waterproofing (Spray or hand apply)
One-Part Polyurea Carpark Flooring
---
Operations and Material Selection
For the last 24 years we have accumulated solid professional know-how and experience. On this basis, we fully understand the paramount importance of proper construction methods and optimum selection of materials. At the same time, we exert great efforts to keep pace with the times, adopt the best waterproofing technology from abroad and effect the introduction of sophisticated waterproof apparatus and equipment so as to provide quality services to our clients.
---
Staff Training
We attach great importance to the enhancement of staff qualities and sense of work safety, with appropriate schedule for our staff to participate in the relevant training programmes. These programmes include: plastering skills test, asphalt skills test, closed space safety training programmes, extensible reel suspended work platform operation training, etc. In this way we can ensure the result that all our engineering and construction projects meet the requirements of all the relevant laws and regulations. In addition, we also held technical training for staffs on a regular basis, including the understanding of the materials and their applications, and instill the correct application methods to ensure that all projects can be completed under fair and reasonable and high quality.
---
Future Orientation
We are committed to further enhancement of all our operations and facilities as well as the continuous improvement of the quality of waterproof materials and their applications. We'll earnestly promote the advancement of the waterproofing industries and further improve the quality of people's living standards.
---
Remark
At the request of our clients, we have the pleasure to announce that a variety of waterproof materials can now be supplied to our clients. Enquires for details are welcome.
---
Acquisition of Qualifications
Construction Industry Council
Subcontractor Registration Scheme Registered Subcontractor
(Registration Number R002886)
Registered Minor Works Contractor
(Certificate of Registration Number: MWC 36/2010)
Member of The Hong Kong Concrete Repair and Waterproofing Association
(Membership Number: C-093)
Member of Hong Kong General Building Contractors Association
(Membership Number: 407)